When purchasing a new induction stove, be sure to purchase a cookware set that is compatible with it. A good induction base cookware set is essential to make your induction cooking hassle-free.
We've compiled a list of the best and most helpful cookware sets from Vinod Cookware to make your cooking experience more enjoyable.
Best Induction Friendly Cookware Sets
 1 – Vinod Supreme Cookware Set 5 Piece
If you're looking for a cookware set for a small family, the Vinod Supreme 5 piece set is the way to go. This cookware set includes a frying pan, a saucepan, a tawa, a kadai, and a casserole that can serve 3 to 4 people. The nonstick coating on the set ensures perfect cooking without losing any flavours of the dish. It distributes heat evenly throughout the pan. It can be easily cleaned in the dishwasher. You can use this product regularly to get optimal benefits.
2 –  Vinod Supreme Induction Friendly Non-Stick Cookware Set 12 Pcs
This is a 12-piece cookware set that provides users with excellent outcomes. This is a Combo set of  stainless steel that includes a dosa tawa, turners, and other items. Overall, this is a cooking solution for those who want to continue cooking on their induction exclusively. This has been an all-time favourite for people who want to elevate their meal preparation to the next level.
3 – Vinod cookware kitchen in the box cookware set 25-pieces.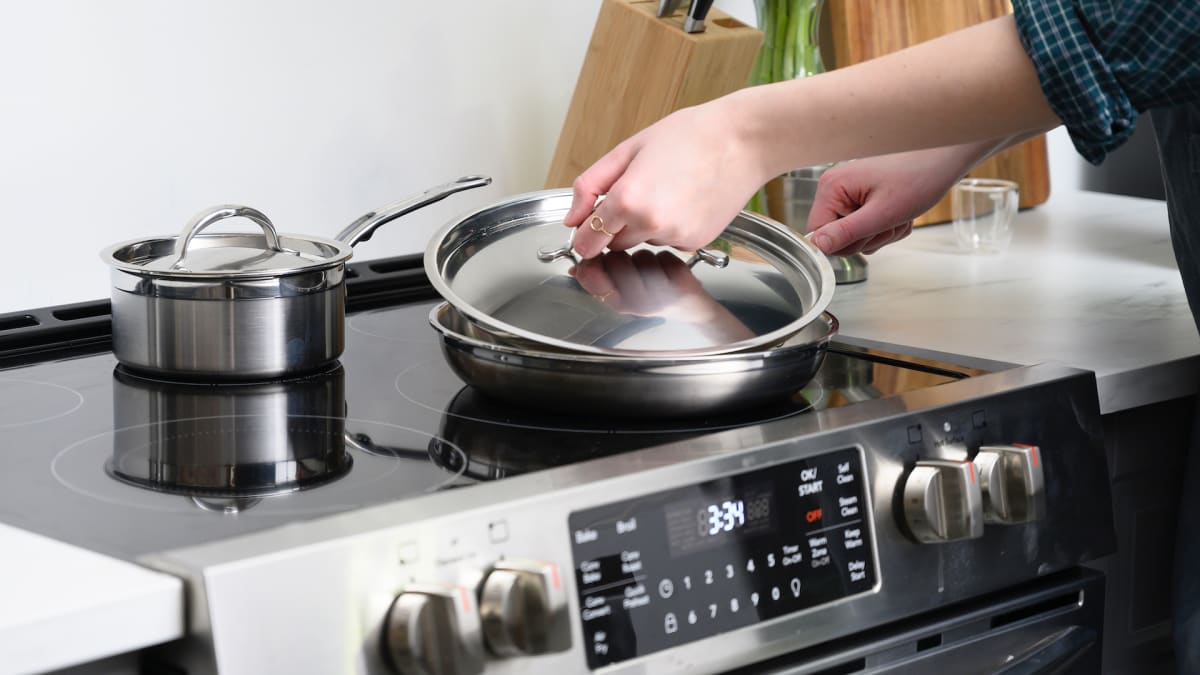 If you have a large family, a 25-piece combo set will be the ideal choice. The set includes a kadai, frypan, tawa, saucepan, dosa tawa, tadka pan, and much more. The compact design makes it easy to store in any kitchen. The product is also nonstick-coated. You can use this product regularly without fear. It's a low-cost, easy-to-maintain product. This too can be washed in the dishwasher.
4 – Vinod Stainless Steel Modena Cookware Set – 3 Pieces
The set includes a frying pan, a kadai, and a saucepan with a lid. It's constructed of stainless steel. The extra-thick metal core ensures even heat dispersion. A tempered glass lid with a steam release vent is included in the kit. The product is induction compatible and dishwasher safe.
5 – Vinod Supreme Cookware Set – 4 Piece
This Vinod Supreme Cookware set includes two frying pans, a tawa, and a kadai. The items are anodized and have a non-stick coating. The design is both appealing and long-lasting. The cookware has a five-layer non-stick coating that prevents food from sticking to the pan. These anodized cookware sets can help you make significant improvements to your cooking experience. Cleaning is very easy and quick.
Conclusion
When you are searching for the best cookware set for your house, you can go for the Vinod cookware essentials. It has a wide variety of hard-anodized products that are very useful for your kitchen. The products are affordable and durable. You can use the product for a long time and get the best experience from it. So, go and get induction-friendly cookware for your kitchen right now!